Splendid Ancient Ruby Necklace, Genuine Emerald, Solid Silver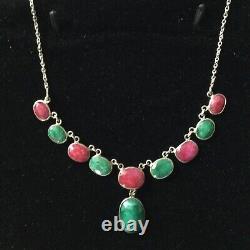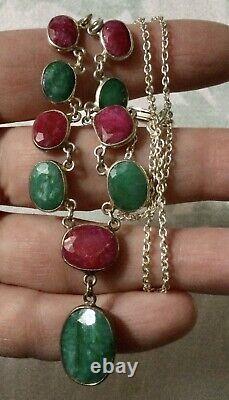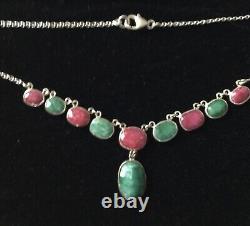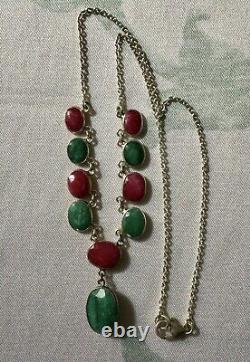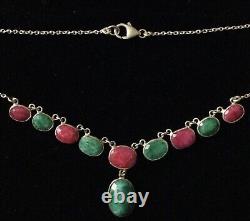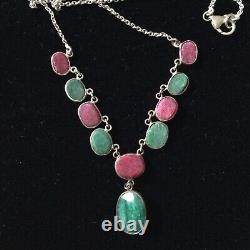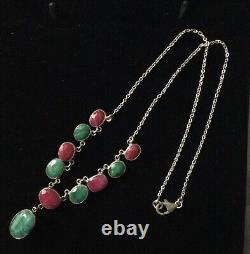 BEAUTIFUL VINTAGE RUBY NECKLACE, GENUINE EMERALD, SOLID SILVER. EXCEPTIONAL LARGE NECKLACE IN SOLID SILVER, VERY ELEGANT, SET WITH SUPERB GENUINE RUBIES AND BEAUTIFUL NATURAL EMERALD. UNIQUE DESIGN, MAGNIFICENT RARE HANDCRAFTED JEWELRY WORK, THE STONES ARE HAND CUT, ONE SIDE LEFT RAW, WITHOUT POLISHING. 5 SPLENDID NATURAL OVAL RUBIES: CENTRAL RUBY MEASURES 11 x 10 mm. TWO RUBIES: 10 x 8 mm AND TWO MORE RUBIES: 9 x 7 mm. SPLENDID GENUINE NATURAL EMERALD, IN MOVABLE PENDANT, POLISHED ON BOTH SIDES IN THE MIDDLE: 16.5 x 12 mm.
2 EMERALDS: 10 x 8 mm, TWO MORE EMERALDS: 9 x 7 mm. REMARKABLE LUXURY JEWELRY, VERY BEAUTIFUL DESIGN, VERY ORIGINAL AND ELEGANT.